Assalamualaikum ! Selamat Hari Merdeka wat semua blogger Malaysia ! Dan tak ketinggalan jugak Selamat Hari Raya Aidilfitri. Ok, hari nie Yui join satu segmen pulak. Masa Blog-walking 'n' follow blog Faizah, The Miss Princess yang comel tu, Yui tertarik nak join segmen nie. Syarat-syaratnya pun senang bah ! Jom join ! Klik je banner tu. :)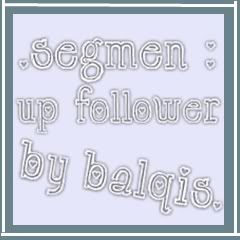 KLIK BANNER COOL UNTUK JOIN !
***Update ! Tarikh Tutup 30 Oktober 2012 ! Dah guna banner yang COOOOOOOL!!!~
And for the last touch up. Yui memang tak tahu tag siapa. So, Yui tag Miraa Hussin, Diera le Princess, Miss Azwar Syuhada, Syah le Miss Basikal & Zul de Alexis.
Okay, bubye ! ;)
---
Terima Kasih Kerana Membaca, Apalagi, Komen La !
---